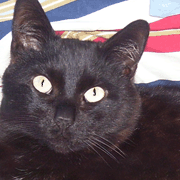 Welcome to MyBombayCat.com, a site dedicated to everything Bombay cat related.  Here you'll find articles ranging from Bombay cat care and temperament to Bombay cat pictures and breeders.  The creator of this site has owned a Bombay cat for over 5 years and has done extensive research on the breed to make sure that you are exposed to only quality and reliable articles about this specific breed of cat.
If you're here because you're looking for information on typical Bombay cat temperament and personality or if you're just browsing for clothing or other apparel featuring Bombay cats, then we've got the resources just for you!  Or maybe you're here just browsing pictures and photos of Bombay cats just because you love them that much, we've got that too!
A typical question an ordinary visitor might ask is What type of Bombay cat do I own?.  In case you didn't know, there is more than one kind of Bombay cat, the British Bombay and the American Bombay.  Which one do you have sleeping on your couch right now?
Use our navigation on the right side of the site to navigate around our various articles and pages.  I wish you luck in finding whatever it is you came searching for and hope to see you back here again soon!