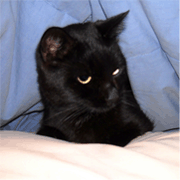 The are relatively few Bombay cat breeders in the world, so finding one may be difficult.  If you contact a specific breeder and they can't help you, ask if they can refer you to another breeder.  Chances are they know of other sources that offer Bombay cats for sale.  Here is a list of places to go and people to contact to locate Bombay cat breeders.
#1. Fanciers.com
Breeders of all different types of cats can be found through Fanciers.com.  So if you're looking into finding breeders for other breeds of cats as well, this is where you should head.
Think of it as a cat-based chatroom.  Ask questions and get answers from other people who are just as obsessed over their Bombay as you are.
#3. Pets4You.com
A really convenient site for aiding you in your search for the perfect Bombay cat.
Great site listing rescue shelters with Bombay cats in their cages.
Listings of places to find Bombay cats for sale.
#6 Pet-Net.net
Find Bombay cats and kittens for sale.
#7 Oodle.com
One of the more quality and updated sites to find a black Bombay.
It is also recommended to contact Fanciers if you have questions about finding breeders (or anything else cat-related, for that matter).  Here's their information:
American Cat Fanciers Association
P.O. Box 1949
Nixa, MO 65714-1949
Phone: (417) 725-1530
http://www.acfacats.com/
The Cat Fanciers' Association, Inc.
1805 Atlantic Avenue
P.O. Box 1005
Manasquan, NJ 08736-0805
Phone: (732) 528-9797
http://www.cfainc.org/
You can find more information on Bombay cat breeders in magazines like Cat Fancy and Cats Magazine in the United States and Canada.  If you're in the United Kingdom, check out the magazine Cat World.
What if You Can't Find a Breeder?
The good news is, if you can't find a breeder that offers Bombay cats for sale, all hope is not lost.  Check your local animal shelters.  If you find one there, not only are you getting a Bombay for yourself, but you're giving a cat a second chance at life in the process.  Check the yellow pages for local animal shelters and rescue agencies near you and give them a call.